Update 1 (After meeting on 6th Sept.)
*Met with Prof Adrian Cheok and have been asked to do the wireless communication for the output to the suit and vice versa. He mentioned that the connection must be continuous and the wearer does not have to do anything with regards to this wireless communiation. He wants the suit to be connected to the wireless local area network at home all the time. So he has ruled out Bluetooth as it consumes to much power and does not want the person to have to carry his handphone with him all the time.
(06 Sept. )
Am considering different types on embedded WLAN modules at the moment.
CF WiFi Module : DHIB
802.11b/g wifi CF and Bluetooth USB combo module, RoHS compliance
This product is not for sale to the public.
Operating voltage = 3.3V
802.11g mode
FTP Tx: 245mA (avg.) ~ 295mA (max.)
FTP Rx: 230mA (avg.) ~ 280mA (max.)
Dimensions - 48.34 x 47.23 x 2.75mm
http://www.unex.com.tw/web2/english/product/detail_1.asp?c1=WLAN+Module+Solution&c2=CF+WiFi+module&c3=WiFi+%26+Bluetooth+combo&c4=DHIB
Digi Connect Wi-ME (single-unit pack with antenna) Px : US$130
http://www.digi.com/products/embeddedsolutions/digiconnectwime.jsp
Dimensions - Length 49.4mm, width 19.05mm, height 18.67mm.
3.3VDC at 400mA max(1.32W)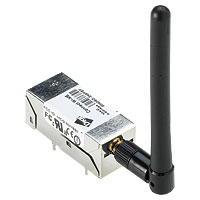 Digi Connect Wi-EM Px : US$140
http://www.digi.com/products/embeddedsolutions/digiconnectwiem.jsp
3.3VDC @ 400 mA max (1.32 W)
Dimensions - Length: 49.149 mm, Width: 47.117 mm, Height: 19.939 mm (Fully Populated Model)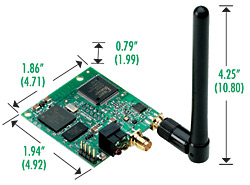 MatchPort™ b/g - Embedded Wireless Device Server PxUS$180 because of evaluation board $105
http://www.lantronix.com/device-networking/embedded-device-servers/matchport.html
Dimensions - 44.4 x 44.4 x 10.4 mm
Power Consumption - Data transfer 740 mW (Low cpu)active ,250 mW (Low cpu) inactive
Nemo 10 Embedded Ethernet Module Px : £16.00
http://www.merlinwireless.co.uk/merlinbluetooth/nemo-10-embedded-ethernet-module-p-107.html
+5vDC@60mA Input, 0.3w low power consumption
Dimensions - 45 x 45 x 18.5 mm
**Airborne™ Embedded Wireless Device Server Module Serial to Wireless LAN **
http://www.testech-elect.com/dpac/index.htm
I've emailed them for the price so i'm waiting for their response.
RCM4400W RabbitCore Px : US199 incl. development tools
http://www.rabbit.com/products/RCM4400W/
Dimensions - 47 x 72 x 13 mm
450 mA @ 3.3 V while transmitting/receiving 80 mA @ 3.3 V while not transmitting/receiving
Thoughts :
Hardware evaluation:
I'm deciding between the Matchport b/g, Digi Wi-EM and the Digi Wi-ME. However the Digi Wi-EM is a little bigger and more expensive. I've checked the device data sheets and it seems the Matchport b/g has lower power consumption of 250mW in the inactive mode where no data is received or sent. Furthermore Digi's product's might require a development board to help with my connection to the internet and their development boards are much more expensive.
The digi Wi-Me is very small but I have analyzed the data sheets and the digi Wi-Me only has IEEE802.11b interface while the matchport has both 802.11b/g. The lower power consumption of the matchport b/g as stated above is also another factor. Furthermore, the peak supply current required for the digi Wi-Me is 400mA is higher as Matchport's peak supply required is only 360mA. Since power considerations are important in this project, the Matchport b/g module would be a better choice.
Although price isn't a main factor, Matchport's module is smaller and requires less power so for now i'll choose the Matchport b/g.
The manufacturer Lantronix of the Matchport b/g wireless device server module has also provided very helpful data sheets to help with development so i think choosing the Matchport b/g module would be much better for me. I'll have to check with the group members on any other factors which might be a problem.
(17th Sept)
Prof Cheok asked me to check out the Rabbit RCM4400W. Seems to be a very good choice as well and price range is almost the same as the matchport b/g. However, it is slightly larger based on the dimensions above and since Prof. Cheok has stressed that the chip should be as small as possible, the matchport b/g would be better. Again, the data sheets provided by matchport also seem more user friendly to me as it seems that more programming is needed with the Rabbit module.
Misc. :
Another worry is the availability of the chips that i'm looking at. Some of the chips are only stocked in the US and take quite a bit to arrive in Singapore. But the matchport b/g i've checked and the Rabbitcore are readily available so i think that should not be a problem. A great site for comparing chips provided by Prof. Cheok http://www.circuitcellar.com/vendor/advertisers.html.
page revision: 24, last edited: 20 Sep 2007 13:29